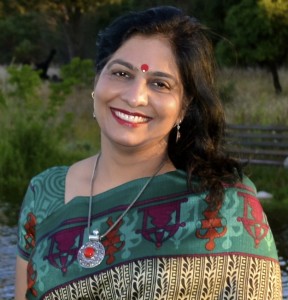 CFHI would like to thank Hema Pandey for her 10 years of outstanding service with CFHI! Since joining as India Coordinator in July 2005, Hema has grown into the role of India Director while leading CFHI's growing presence in India. Today, there are 8 thriving programs in India, located throughout the country and offering a variety of health topics to meet participant interests. Hema has played an integral role in program development by establishing and maintaining strong partnerships with a wide and diverse network of health professionals and NGOs in India. Her professional interests include rural and urban healthcare, water and sanitation, gender, and social development. She holds a Bachelors in Business and Commerce from Kurukshera University and a PG Diploma in Fashion Design from the International Institute of Fashion Technology.
Hema explains that her work with CFHI is always exciting, and that she learns something new from every student she encounters. Working with CFHI has been a learning process, and every student adds to her understanding of different cultures and worldviews, including perspectives on health and health care systems. Since working with CFHI, she shares that "instead of looking straight, I've started to look in all directions for answers. I am still learning with every student, so it's as enjoyable as it was on day one."
Hema represented CFHI at the Forum on the Empowerment of Women at the United Nations in New York in September 2010, and experience that she says was "The highlight of (my) 10 years at CFHI." At the conference, she spoke alongside CFHI's Executive Director, Dr. Jessica Evert, on a panel that highlighted their experiences working and leading in male dominated professions. Hema spoke about her successes using a collaborative approach to get the work done. Hema also represented CFHI at the 5th International Symposium on Service-Learning at Stellenbosch University in Cape Town, South Africa in 2013.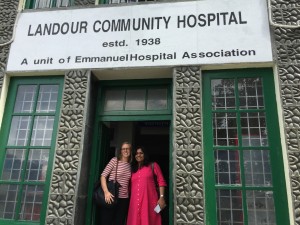 Hema is very appreciative of the years she has spent with CFHI, giving her the opportunity to improve herself while improving the communities around her. She reflects that her role as India Director allows her a path to help so many people. Hema is very supportive of her local staff and as an individual, she receives immense satisfaction when connecting grassroot organizations with aspiring students. She explains that this is her way of giving something back to society at large.
Robin Young, Assistant Director Africa & India, shares, "Hema is a force of energy and vision for CFHI's programs in India. She has built our engagement in India into what it is today- 8 strong programs with 2 more coming very soon- each offering a unique perspective on health and public health, from maternal and child health, to traditional medicine, to chronic disease and palliative care. Here's to ten more years!"