CFHI was proud to send their Program Coordinator, Lyndsey Brahm, to the 2016 PEGASUS Conference that took place in Toronto over May 13th to 15th.  PEGASUS is an acronym derived from the conference's three main themes of peace, global health and sustainability. Leaders, change-makers, professionals and students from multiple disciplines convened to share their expertise in research, education, field experiences, advocacy and policy in order to address unacceptable levels of poor health nationally and internationally.
CFHI hosted a workshop on asset-based community development (ABCD) and introduced our vision into how recognizing assets within a community as opposed to what is lacking can prove to be a successful global engagement approach and can lead to communities feeling more empowered. CFHI has numerous partnerships throughout ten different countries and prides itself on fostering sustainable relationships and not being "fair weather friends." We want the communities we work with to take ownership of their own development and to be enthusiastic about sharing their expertise with our global health scholars who come seeking new perspectives in health and medicine, outside of their own system.
Program Coordinator, Lyndsey Brahm asserts, "We want people to challenge their way of thinking and to see past what may initially appear as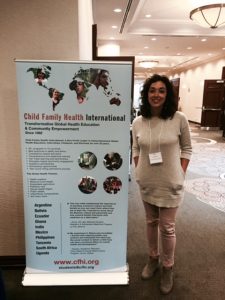 chaos and devastation; to lend time towards learning about innovative ideas already in place and community strengths that are critical to overcoming health challenges that persist within their community."
A buzz was in the air as this thought-stimulating conference carried on throughout the weekend. One presentation that stood out from our perspective belonged to Matt DeCamp, Assistant Professor at the Johns Hopkins Berman Institute of Bioethics and in the Johns Hopkins Division of General Internal Medicine. He spoke on the subject of global health ethics, encouraging students and trainees to go abroad for longer, and the development of appropriate pre-departure materials. He shared his experience about a global health trip he undertook as a medical student at Duke University, where he faced challenges cultural differences and was exposed to human rights. He remembers feeling unequipped and under prepared to deal with such circumstances. He now contributes to the development of adequate pre-departure materials for those seeking an international health experience and runs focus groups for returnees at Johns Hopkins University.  CFHI recently gave a webinar on this very subject.  Which is available by clicking here.
CFHI was excited to be a sponsor for this year's PEGASUS conference.. It is a valuable space for CFHI and others within the field to challenge one another and generate new ideas, actions and policies to improve the health and well being of the world's citizens, whether on a small or large scale. The commitment is fierce.