The anniversary of the great Asian Tsunami is December 26th.  Do you remember where you were on that day in 2004?
The effects of the huge earthquake, estimated at 9.1 or greater, and resulting tsunami were devastating.  Some reports say that about a quarter million people in some eleven countries,  lost their lives, almost in an instant.  For those who were left, they not only had to deal with the grief and loss but also with the fact that their lives and livelihood would be forever changed.  Many made their living off the sea and now the trauma of this event made it hard for them to comfortably return to their work.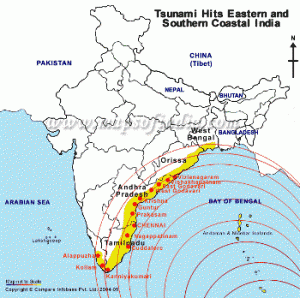 CFHI's loyal donors and alumni were quick to respond.  Within 48 hours, we had connected with other international organizations and had a disaster relief container with supplies for 10,000 people, on the ground in one of the worst hit areas in Indonesia.  Our donors continued to give.  We let people know that CFHI did not have any programs in the areas that were directly impacted and suggested several other organizations to which to donate.  Many of our donors still wanted to give to CFHI, they said that they trusted CFHI to find the best way to use the donations.  So after helping with the immediate disaster response, we started doing our homework.
With many programs in India, CFHI was asked to help in the areas of Southern India that were greatly impacted.  CFHI met with local and WHO health officials by conference calls.  There was great concern that widespread disease would be one of the effects of the tsunami so we were asked to wait while health officials conducted surveillance to see where disease would most likely occur, along that portion of the Indian coastline.  As it turned out, preventative efforts held disease in check so we began looking for other lasting effects of the tsunami.  For young children, the trauma was the most significant lasting effect.  In a number of small coastal fishing villages, much was lost including the schools.  One of the most important things to help children dealing with trauma, is to reestablish a routine that is safe and comforting to them.  With the loss of the schools, there was a big hole in the day of every child.  CFHI teamed-up with the service organization Round Table India –that was charged by the Indian Government with rebuilding the lost schools.  CFHI's donors were able to support the rebuilding of two schools that were lost in the tsunami, thus reestablishing this most significant daily routine for many children.
Some of CFHI's donors have continued to donate to make sure that efforts to help those so devastated by the tsunami would not fade away.  As this fifth anniversary approaches, CFHI is happy to be continuing in this effort.  Loyola College in Chennai started an outreach program to provide ongoing assistance to people affected by the tsunami.  A successful community college effort has been established and is training people in skills to help them find jobs in many fields including culinary work and food service for the tourist industry, website design, mechanical work on air conditioning and refrigeration systems, etc.  In addition, the Kovalam Community College is providing general courses in English, general life skills, health education, and working with the large population of widows created by the tsunami doing women's empowerment workshops and helping the widows develop their skills.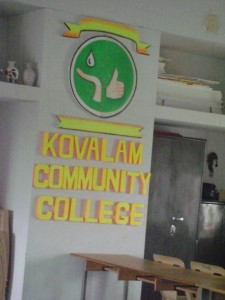 During my visit to India earlier this month, I met Fr. Xavier Vedam, S.J. the Vice Principal of Loyoal College in Chennal and the Director of the Loyola Outreach program.  I was very impressed with these efforts by local students volunteering to help in the villages that continue in their recovery from the devastating events of December 26 2004. I was struck by the passion of Fr. Vedam and the fact that they are not giving up but continuing to provide services, engaging the community, and helping people in real ways.   To see that many people are now in gainful employment and that the self confidence and attitude of people in whole villages have been so positively impacted, is a wonderful accomplishment and we applaud these ongoing efforts that bring development based on the strengths of the local people.