By Lyndsey Brahm
Program Coordinator
Child Family Health International (CFHI) has always prided itself on fostering honorable and long-lasting relationships with its international partner communities. Communities feel empowered and confident that their partnership with CFHI will contribute substantially to their developmental goals and will pave the way for a promising future. CFHI uses several mechanisms to support its partner communities: global health education programs, research and advocacy, and community health projects.
CFHI Community Health Projects build and reinforce the importance of passion within resource-restricted communities. They use an asset-based community engagement approach that focuses on strengths rather than needs and weaknesses. These projects help to bring solidarity, financial support, material support, and exposure to innovative ideas that are led by local health care workers, community leaders, and other native change agents, thus building local capacity, skills, and fueling passion to create a better tomorrow.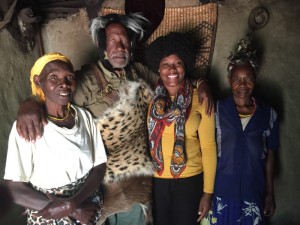 CFHI is currently supporting seven community health projects within five countries, in addition to professional development opportunities that arise for CFHI partners. In July 2016, Dr. Geoffrey Anguyo and Martin Ngabirano, our local partners in Kabale, Uganda, attended the 21st International AIDS Conference in Durban, South Africa as part of their commitment to fighting high HIV rates within southern Uganda. This opportunity not only provides momentum for their grassroots based initiatives and aims to improve the livelihood the community members, but it also sets an example for incoming CFHI participants to learn from.
The number of mothers and children attending the Young Mother's Empowerment Center in El Alto continues to rise each year, since opening its doors in 2013. The center now provides a safe haven for six mothers and 10 children, a place where the women can access quality child care opportunities, health care services, support groups for victims of domestic violence, and advice on employment and educational opportunities. The women feel solace is having one another as support and more confident seeking out means of improving their lives and that of their children.
40 traditional midwives-parteras-attended an annual continuing education training in Puerto Escondido, Oaxaca, Mexico this past summer. This 4 day training is hosted each year by CFHI, Northwestern University Feinberg School of Medicine and the Oaxaca Ministry of Health and has been running since 2010. There is a unique energy and fervor amongst the midwives about being able to access educational tools to improve the care they provide for a high percentage of women in Oaxaca's coastal region.
CFHI devotes significant time and energy to honoring the skills, expertise and commitment its international partners have to their own communities. It's important to recognize the potential of individuals within the communities and those that have an unshakeable determination create positive and lasting change. We salute to that!