In July of this year five students from Northwestern University's Feinberg School of Medicine traveled to rural India as part of a unique global health program organized by Child Family Health International – CFHI, the second trip organized through their unique partnership.  Funded by Northwestern's  Center for Global Health we set out to learn about public health, increase our cultural competency, and develop clinical skills by participating in a four-week clinical shadowing experience across Northwest India. We rotated in different settings, from tiny villages like Patti tucked away in the foothills of the Himalayas to the bustling city of Dehradun, in both public and private healthcare sectors.  During our time in the clinics, on the wards, and in the field we witnessed healthcare disparities as they are manifested between rural and urban regions, between private and public sectors, and between different socioeconomic groups. We were able to see, for cultural and economic reasons, how differently medicine is delivered half a world away.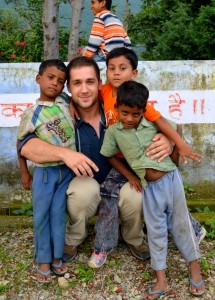 That month spent in India was an unforgettable and magnificent experience: the medicine we witnessed, the physicians and nurses we worked with, and the patients we got to interact with brought the kind of perspective to my medical education that only an actual, immersive experience that being abroad could bring. We didn't stay in hostels or hotels – we lived with Indian families in their homes or in dormitories within the hospitals.
Nothing can beat that kind of immersion; nothing can beat waking up in a tiny mountain village everyday at 5:30AM with my fellow travelers to do yoga, or getting woken up in the hospital by a nurse to aid in a delivery or assist in the emergency department. We explored palaces and temples, hiked through jungles, and sampled the multitude of sights and smells, the cacophony of sounds, and the delicious and exotic foods.  India brought piece and calm to my mind and body, it gave me perspective on the doctor/patient relationship, and reminded me what medicine is really about – one component of the greater endeavor to help ameliorate human suffering in the world.
India left a lasting impression – one that no doubt will shape my medical career, but also my personal life. It left me wanting to return to the more disenfranchised parts of the world to practice medicine, it left me a with a firmer perspective and appreciation of my own upbringing, and it left me with fond memories of a country I would dearly love to visit and explore again in the future.
Jason Chodakowski
Northwestern University Feinberg School of Medicine
MD Candidate – Class of 2016