You may have heard people refer to CFHI and those involved in the organization as part of a global family.  Our 'family' is made up of wonderful volunteers, health care providers, devoted  staff (stateside and abroad), as well as the fastest growing part of our family– more than 7,000 CFHI alumni and counting!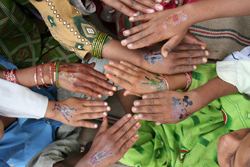 We have been growing our family and projects for over 20 years.
CFHI is not only a global family, but we serve families.  Two projects that come to mind when I think about how our work affects families are projects that target the long-distance trucking industry in India and the illegal sex workers that support this industry.
In India, young men, and boys barely out of school, travel the highway system connecting the most distant corners.  The work is hard, the hours long, and the travel dangerous on the over-crowded highways connecting coast to coast.  While away from home for 2-6 months at a time, many truck drivers engage in sexual activities with prostitutes.  Two National Aids Control Organization (NACO)-based foundations that target this population are the Society for the Promotion of Youth and Masses (SPYM) and SWACH (Survival for Women and Children Foundation).
Both do amazing outreach and fieldwork with peer educators, some once truckers themselves. They captivate the young audience by performing skits (see photo, right), playing card games, leading monthly health camps, and offering the men free hair cuts and shaves while they talk about safe sex.  SWATCH peer educators target the high-risk female sex workers~ often widowed women (some still in their teens) who have been forced into sex work to support their children. Their main activities include teaching why condom use is important, the importance of regular HIV testing and resources are available if they test HIV positive.  They even teach the woman how to put on a condom on men in the dark by demonstrating how to put a condom on a model blind-folded!  Challenges ahead include rehabilitation training for the sex workers.
The family in Child Family Health International is both our global family of staff and local health care providers that make CFHI Global Health Education Programs the amazing experiences they are, and the network of folks, our alumni, who have been touched by CFHI's transformative programs, as well as the families served by CFHI programs and reinvestment in host communities.