By Anne-Gaëlle Jacquin
What could a phycologist (an algae researcher) possibly do at CFHI? If you type this query into an Internet browser, it will probably ask "Do you mean psychologist?" The link between global health and algae doesn't seem obvious at first but there are definitely some common threads, specifically around sustainability.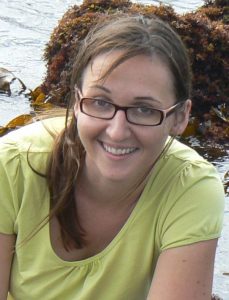 I am a marine biologist. When I was in grad school, there was a daily barrage of news about the unprecedented scale of environmental and ecological damage  to our planet. While working on my PhD in algal biotechnology, what struck me was how algae had so much potential to help mitigate some of our sustainability challenges. Inspired by this, I founded The Algonauts Project in 2010 to chronicle algae innovations for sustainability. I met with more than 150 specialists, whom I call Algonauts, living in over 17 countries. These Algonauts are scientists, entrepreneurs, NGOs, fishermen, farmers and inventors. They develop applications with algae which help with food production, wastewater treatment, environmentally friendly aquaculture, CO2 offset, biomaterials, new medicines and many more innovations. To help spread their knowledge and enthusiasm about algae, I document these innovations and the stories of the Algonauts at www.algonauts.org.
When Dr. Evert, CFHI's Executive Director, told me about the concepts of Planetary Health and One Health, I wasn't familiar with them. In the subsequent weeks, the more I learned about these concepts, the more I found myself jumping with the excitement of a breakthrough!
Over the last few years, a common theme has emerged in sustainability science: to reach universal objectives of sustainability and address the complexities of global problems, there is a clear need for transdisciplinarity approaches and an integration of knowledge from experience and from science. The archetypal convention of separating natural and social science in academia had conducted in an incomplete understanding of nature-society interactions and the integrated dynamics of the 'Earth system' as a whole.
And often times, in such transdisciplinary work, weaving a compelling narrative across complex disciplines isn't always possible.
This is where the concepts of Planetary Health and One Health make so much sense – they offer a powerful bridge between very different disciplines – health of the human population and the health of our environment, including animal health. This emphasis on the human health consequences of the degradation of natural systems throws into sharp relief the urgency and fragility of our current situation, and emphasizes that the health of one can not be examined without examining the other.
The concept of Planetary Health, recently formalized through the launch of a new journal, The Lancet Planetary Health, is defined as the achievement of the highest standard of health, wellbeing and equity worldwide. It encompasses a wide spectrum of disciplines for investigating not only the effects of environmental change on human health but also the human systems (political, economic, social) that govern these effects.
One Health recognizes human, animal and environmental health as interconnected and particularly emphasizes the interdisciplinary collaboration between human and veterinary medicine.
CFHI has long been committed to the promotion of Planetary Health and One Health and the diversity of its nearly 40 programs offer students and faculty the possibility to explore these transdisciplinary and integrated approaches and to acquire an intercultural literacy which is also fundamental for sustainability.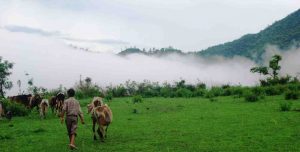 Offerings include the "Community Medicine from Rainforest to Coast" program in Ecuador, where students gain exposure to rural and community medicine in both rural and urban settings, exploring chronic, acute, and infectious and tropical diseases. The program provides anthropological insight into indigenous communities by learning the unique worldview of the Shuar tribe and their uses for traditional medicinal plants combined with spiritual practices. In this program, students will learn from local experts about a wide range of environmental disciplines (botany, animal husbandry, forestry, entomology) and the sociocultural and political aspects of jungle preservation.
In Kabale, Uganda, with CFHI's "Nutrition, Food Security, & Sustainable Agriculture" program, students learn about veterinary approaches developed in the Rabbit Breeding and Training Center in Kabale, exploring how proper care and hygiene for raising rabbits are the grassroots for integrated economic, social and health improvements. Students also learn about ground-breaking integrated approaches for improving food security and nutrition. From primary care clinic to rural communities, students observe and contribute to the implementation of practical solutions in health, farming and education and the positive impact of these programs on maternal and child health.
You can explore CFHI's offerings in Planetary and One Health here: CFHI Planetary Heath & One Health Initiative
Looking at sustainability through the lens of global health has been a very enriching experience, opening lots of new prospects. I can foresee algae in some of them and can't wait to explore them further!
——————————————————————————————————————————-
Anne-Gaëlle is a marine biologist from Plogoff, a village in Brittany at the Western tip of Europe where the ocean is all around! In this end/beginning of the land, there is wilderness, quiet, wonderful lights and powerful storms. Anne is fascinated by nature, the universe and life as a whole, from the complexity of cellular mechanisms to human societies. She obtained her PhD from the University of Western Brittany in France and afterwards she felt the need to look at the bigger picture.  She saw that microalgae and seaweeds are fundamental in ecosystems and could play an even bigger role in the future for sustainability. After her PhD, when the reputation of algae was very negative due to green tides, she started a journey around the world to share the wonders of algae.  Learn more about her project at www.algonauts.org