By Molly Biehl, CFHI Alumni Advisory Board Member
When I moved to Washington, D.C. two years ago, I anticipated a lot of buzz around global health, but coming from the intimate public health community in Portland, Oregon, I could have never imagined something as grand as The Future of Global Health (TFGH) event.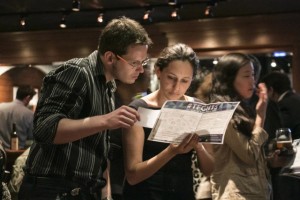 This annual event is sponsored by Global Health Council and the Global Health Fellows Program II and is specifically branded as an un-conference because of the unique format: small group conversations led by senior global health professionals that are intended to create dialogue and foster networking. Different hubs around the event space each have a theme (i.e. Accelerating Innovation & Impact; Gender & the Global Health Arena; Measurement & Metrics; Healthy Mothers Healthy Babies; Pandemic Preparedness, etc).
Having attended the same event in 2014, I knew how to navigate the hubs a little better this year—coming prepared with thoughtful questions to fuel conversation and packing extra business cards to exchange. My current work at the George Washington University Milken Institute School of Public Health is not directly linked to global health challenges, so the TFGH event was a welcomed occasion to talk about some of the things I'm most interested in and aiming for in my professional development, specifically: impact evaluations, increasing health workforce capacity, and gender sensitivity in the post-2015 sustainable development goals.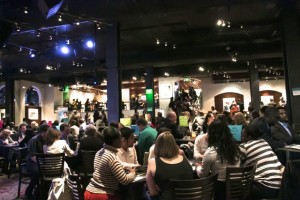 This year the event also offered one-on-one mentoring sessions in ten minute blocks, with an impressive lineup of global health professionals that represented a breadth of sectors engaged in global health activities: private consultants, non-profit organizations, government agencies, and academic researchers. The mentoring blocks seemed to be a big hit – I was lucky enough to snag an opening at the very end – and though the mentor I was paired with wasn't a great fit, it gave me the chance to reflect and talk about my experience with CFHI. I'm an alumna of CFHI's South Africa programs (2010), and was deeply impressed with the organization's values and approach to global health education. Although the mentor was seasoned with years of experience, she didn't quite grasp the difference between humanitarian work and a broader global (public) health framework. It was in this encounter that I felt truly grateful for the very grounding influence of CFHI in my training. Moreover, I felt confident in articulating to the mentor that this model of learning involved examining and understanding contextual factors that influence health and shape health disparities; and that the reciprocal partnerships with communities creates more equitable and sustainable change. Again, a little preparation beforehand goes a long way in this setting, to identify an appropriate mentor and have specific questions for their guidance or opinion. Like many things I've come to learn about living in D.C., the opportunity of TFGH is what you make of it—it's no place to be shy! For myself, this can be an intimidating envronment, so coordinating with a friend or colleague instead of going solo is a good option. And if you brave it again, like I did, odds are that you find you're in good company after all!
Other annual and notable global health events to take advantage of if you live in the greater D.C. area:
Global Health Mini-University: http://www.mini-university.org/
Global Health & Innovation Conference: http://www.uniteforsight.org/conference/
Consortium of Universities for Global Health Conference: http://www.cugh.org/events/conference2015