By Lyndsey Brahm, CFHI Program Coordinator

Sounds of interaction, excitement, cultural exchange, and a mix of English and Spanish could be heard from Hotel 55's top floor balcony in Puerto Escondido, a lively coastal town in southern
Mexico that lures surf enthusiasts from every corner of the world. However, Hotel 55 was bustling the final week of July not for those seeking the thrill of Playa Zicatela's ferocious waves, but for an annual midwifery training that provides essential continuing education for parteras tradicionales or traditional midwives serving their communities throughout the state of Oaxaca.
The project, now in its 6th year, is critical to the health and well being of pregnant women and their families throughout Oaxaca. Over the course of 4 activity-packed and eventful days, a training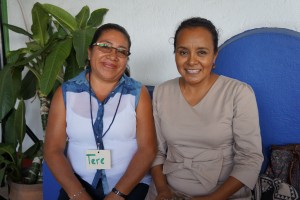 mandated by the Oaxacan Ministry of Health is carried out in collaboration with Child Family Health International (CFHI), a group of ambitious medical students from Northwestern University Feinberg School of Medicine who are members of the institution's Alliance for International Development (NUAID), and local health professionals, including Dra. Isabel Saucedo, an employee of the Reproductive Health Office of Jurisdicción 4 and CFHI's Medical Director in Puerto Escondido. Dra. Saucedo is a local champion for bridging the gap between the local healthcare system and traditional midwives, and has shown great perseverance and commitment to ensuring this project takes place year after year.
Themes covered were safe birth techniques, recognition of obstetric emergencies, and addressing newborn distress. The Oaxacan Ministry of Health builds upon each year's training and seeks quality improvement to establish consistency and correctness with prenatal guidance, fertility advice, family planning, and birth attendance.
This year's training incorporated an interesting component that complimented the materials provided throughout the project. Hesperian Foundation's award-winning Safe Birth App was introduced to a select group of midwives using low-cost computer tablets. This app was created for low literacy audiences and has been piloted in several midwife cohorts in Latin America with great success. Working in tandem, CFHI and Hesperian will continue to track the response and impact of the application and the use of the tablets on the health of local communities.
Due to limited public funding, CFHI and NUAID have joined forces to provide generous donations to breathe life into the project for the past several years. The joining of hands is what makes this project unique and generates an impact that is far reaching. Traditional midwives are highly respected members of their communities and women often seek out their services at least twice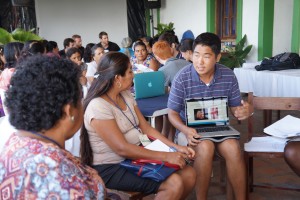 during their pregnancy. Therefore, the reproductive health of Oaxacan communities, especially those in dangerously remote locations, is vastly improved. The opportunity for the midwives to sharpen their skills, foster relationships with members of the formal healthcare system, and engage with foreign medical students is invaluable to their careers and their livelihoods. Lastly, the medical students from Northwestern University thrive off of the cultural exchange and the opportunity to contribute to a meaningful grassroots project and greatly improve their Spanish language skills. First year medical student Kyle Yoo explains, "Overall, I felt like I was really doing something. I was fully engaged. Without CFHI, I don't believe I would have this opportunity otherwise to interact with the community and learn in the way I did."
Puerto Escondido's intense heat presented no match for the enthusiasm of the 30 midwives who traveled from various parts of Oaxaca, many of whom were eager to join the training for another consecutive year and to proudly represent their communities.
Learn more about the Traditional Midwives Training at: https://www.cfhi.org/traditional-midwives-training