Q.  Tell us about the CFHI program you participated in.
I participated in Sexual Health as a Human Right: Ecuador's Unique Model. I spent one month in Quito and was placed with Fundación Equidad, a LGBTQ health and human rights organization. This program stood out to me because it was not clinical, but rather community-based. Though I'm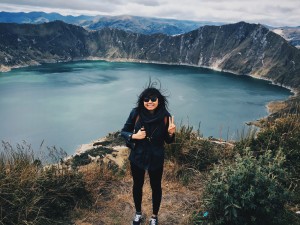 in medical school already, I chose this program because I believe that practicing socially just medicine requires an understanding of the social, political, and economic forces that underpin communities. Volunteering with Equidad was a great way to gain insight into the activism and health-related challenges that LGBTQ people face in Quito. As a volunteer, I helped them organize their database of people who had received their services, such as HIV counseling and testing, human rights training, and safe sex education. I also participated in their staff meetings, helped them prepare for Orgullo (Pride), and was the photographer for one of their events.
Q.  What were your goals going in to the program? How did CFHI help you in achieving those?
Because I will serve Spanish-speaking populations as a physician, one of my main goals was to learn Spanish. Being able to speak Spanish is not only a practical skill, but in my opinion reflects a greater gesture of respect and solidarity with patients. CFHI helped me do this in part by setting me up with a wonderful host family. My abuela had hosted students for 18 years, and every night she would cook us a delicious meal. We would chat about everything from Caso Cerrado, a hilarious TV show, to current events and politics. I was grateful for her desire to teach and to take good care of us. In the process, I realized that a lot of communication is about confidence. You can't be afraid to speak, to fail, and to be present in the room.

Q.  Who was the most inspiring person you met on the program?
Efrain Soria is the Director of Equidad, and it was great to be able to work with him so closely. He was not only approachable, kind, and welcoming, but also clearly an effective leader. I was able to gain a glimpse into his leadership style during meetings in both informal and formal settings. By doing some research for Equidad, I learned that his voice matters in Ecuador–popular newspapers often quote him, for example. In doing so, he advocates for his work and amplifies the voice of the LGBTQ community. It was beautiful to see Efrain lead with such fearless calm and grace.
Q.  Did the CFHI program influence your career path? If so, how?
Because I'm already in medical school, I have stopped debating my career path and have instead begun to think about how to be the best doctor I can be. For me, part of that involves sustaining my passion for human rights, and fighting for marginalized and underrepresented people. One requirement of being a physician ally is learning how to honor the way my patients wish to identify themselves in terms of their gender and sexuality. When Equidad counsels people on HIV, for example, they complete a very thorough interview that honors the language that the LGBTQ community in Quito prefers to use to describe themselves. Seeing how this works was valuable for me. As a medical student, I am learning how to communicate in a way that allows my patients to feel safe, discuss their medical problems freely with me, and define their own identities.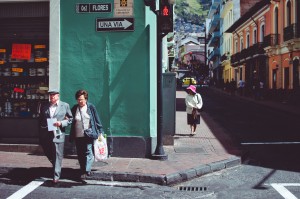 Q.  What are you doing now?
I'm about to begin my second year of medical school at Albert Einstein College of Medicine in the Bronx. For the rest of the summer, I'm working on a very interesting research project with Dr. Johanna Daily in her lab at Einstein. It's a longitudinal study that examines the immunological and clinical dynamics of mild malaria in a rural population in Malawi. Other than that, I'm reading lots of books, working on my photography, and loving summer in New York.

Q. Do you have any advice for students who are thinking about applying or about to go on a program?
Before you go, look at your motivations for going on this program with honesty and ask yourself lots of questions. What do you hope to learn? What can you realistically learn? What might you be able to contribute? What is the space that you're taking up by entering this country and what are the implications of your presence? Doing global work is ethically complex and can be problematic. But it can also further collaborative movements for social justice when done with critical mindfulness.
In a practical sense, define specific goals and have clear conversations with your supervisors from the very beginning. This will help you achieve tangible, shared goals. Lastly, be open-minded, respectful, and spontaneous. Do your best to connect with local people in addition to your host family, whether it be your barista or your taxi driver. They are secret reservoirs of some of the best stories.
Special thanks to CFHI alumna Olivia Low to authoring this guest post.