by Caity Jackson, CFHI Director of European Engagement
The European Association for International Education (EAIE) conference held in Glasgow last week was a great start to CFHI's Autumn European activities. It was also my first time attending an international education conference of that size and scope and it was exciting to be amongst the hustle and bustle of hundreds of institutions, partners and participants that had flocked together from all corners of the world.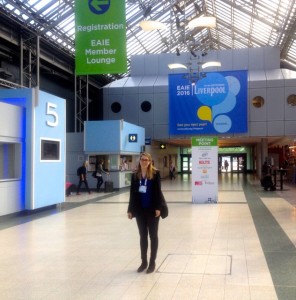 The EAIE is a non-profit, member-led organization serving individuals actively involved in the internationalization of their institutions through a combination of training, conferences and knowledge acquisition and sharing. Their annual conferences welcome over 5,000 international higher education professionals and this year saw these participants coming from over 90 different countries.

There was an excellent opening speech by the dynamic Baroness Helena Kennedy, QC, which struck a chord with me about the movement education sees these days. Not only are there students who are completing their full degrees abroad, but there is constant movement between regions for short courses, specialized training and immersion education. It is becoming the norm and I think it speaks to how the world has become a community and how our aims and objectives align no matter where in the world we live.
That being said, disparities still exist in stark contrasts and for us to truly be educated in a subject in our globalized world, we have to experience these contrasts first hand. There is nothing like having your hands deep (literally or metaphorically) in the complexities of what you have studied in textbooks to drive home a message and increase knowledge retention. I left the auditorium after Baroness Helena Kennedy's speech mulling over her message about being enablers for education and allowing students to have mobility to obtain the knowledge they desire. The classroom truly is global now more than ever and students should be encouraged to broaden their horizons and reach out to the knowledge they know will enhance their education. I think that if we are to be true global citizens, we must all strive to include a little 'international' to our classroom.
Child Family Health International (CFHI) provides community-based Global Health Education Programs for students and institutions. Our unique model fosters reciprocal partnerships and empowerment in local communities, transforming perspectives about self, healing and global citizenship.