Sophia Alvarado is a pre-medical student at Diablo Valley College and a member of the American Medical Student Association (AMSA). Sophia received a scholarship to participate in CFHI's Global Health Intensive Program, Hospital Medicine in Latin America, in January 2016. The following is an excerpt from her blog. This post was originally published on January 15, 2016.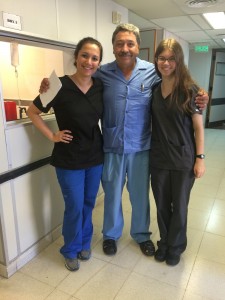 Everyday in the hospital was a new and fun experience for me and I am so happy that I decided to come to Córdoba and participate in the Hospital Medicine program through CFHI. I have had the opportunity to see and learn things now that back home I might not have seen until the end of medical school or even until residency. All the people I got to meet and talk to have been so great and helpful. Overall, my time in the hospital surpassed all my expectations and I hope that I can come back soon.
I want to say thank you to everyone at CFHI in California and everyone at ICC and the Hospital de Urgencies here in Córdoba. This experience was so amazing and I will cherish the time that I have had here for the rest of my life. Leaving Argentina is really bittersweet but this is definitely not the last time that I will travel to this amazing place. Again, thank you to everyone involved in this program – words cannot fully express how much I have enjoyed my time here and how truly sad I am to go.
Read more from Sophia's blog at http://californiatocordoba.blogspot.com/.