From the Chronicle of Higher Education:
"Over the past decade, the number of American students in health fields going abroad has nearly tripled, with many opting for programs that take them out of the classroom and into clinics and hospitals. But as participation has increased, so, too, have educators' concerns.

Far too often, experts say, students are providing patient care—conducting examinations, suturing wounds, even delivering babies—for which they have little or no training. Indeed, as competition intensifies for medical-school slots, some students may actually be going overseas for hands-on experience they could not get in the United States, in hopes of giving their applications a competitive edge."
The article is entitled "Some Global Health Programs Let Students Do Too Much, Too Soon," and here at Child Family Health International (CFHI) we couldn't agree more!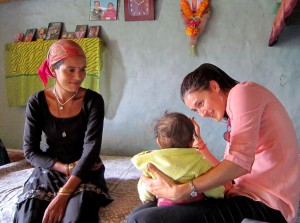 CFHI programs are highlighted in the Chronicle article, including quotes and reflections from CFHI's Executive Director encouraging students to think about ethical implications of their experiences, and shaping student expectations for what is ok to do abroad.
As the field of global health continues to grow, so too are programs and options available to health students of all fields, often promising opportunities to "help" and engage in hands-on experience beyond their training, skill level, or licensure.  From the beginning CFHI has used an asset-based approach for engaging with communities abroad, and encouraging students to "Let the world change YOU." In this way we position participants of Global Health Education Programs to learn, reflect, and realize that many times the most powerful impact they have in their role abroad is to form connections and relationships with local expert physicians and patients that will serve them in their future careers, as well as learn about the multitude of health determinants and complex global realities that underlie global health challenges.  We'd like to extend a big thank you to the Chronicle of Higher Education for helping us spread the word and advocate for social responsibility in health and medical education.
What do you think should be students' role in health settings abroad?  How can students balance enthusiasm for learning while respecting ethical boundaries in clinical settings?  Let us know your thoughts in the comments section below.