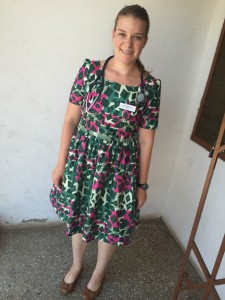 Julia Tanguay is a 4th year medical student at Rocky Vista University College of Osteopathic Medicine and a two-time CFHI alumna piloting CFHI's new Global Health Education Programs in Ghana, Child Health and Social Determinants and Hospital Medicine in Coastal Ghana. The following is an excerpt from her blog "My Trip to Ghana." This post was originally published on November 2, 2015.
Hello everyone! I have thoroughly enjoyed my first week in Cape Coast and my third week in Ghana. Since I last wrote, I spent all of last week in the Pediatric department, except on Friday, when I worked in the Emergency Department. I have seen children with various conditions, like type I diabetes, bronchopneumonia, cerebral palsy, among others. The pace in Cape Coast is quite different than that of Accra, but I am enjoying more teaching and time spent with house officers and medical students. I also met some others from other NGO organizations that are volunteering in the hospital, and we ended up all going to Kakum this weekend, which I will discuss later.
On Tuesday, there was a morning talk about the management of preterm and low birth-weight infants. It was very interesting to get this lecture and then later in the week a lecture on the morbidity and mortality in the NICU. It is crucial to review those cases and reflect upon management to see if there is anything to improve upon in the future. Of note, there is a rate of 14.5% preterm births in Ghana in 2012, versus a 10% rate in the United States for comparison. Of the 111,500 preterm births in Ghana, the mortality rate was 7800. Often, in low-income countries, those born at 32 weeks or earlier often die, whereas they survive in more developed countries. The two themes that stuck out in prevention of mortality and management of very ill neonates is the need for infection control, including cord care, as well as close preterm follow up.
On Wednesday, I spent time going over the High Dependency Unit charts and then got a tour of the NICU with Dr. Bukarie. It was very interesting and eye-opening to see how they treat tiny babies without ventilator support or CPAP. They have the machines, but lack compressed air and continuous oxygen built into the walls, therefore, they treat the children with oxygen by nasal cannula. Also, there are 3 working incubators and otherwise used a heat lamp. We discussed how there might be potential with this sleeping bag looking device that is like an incubator. I am going to look into it further and see if I can get some donated or funded for Cape Coast's teaching hospital. It is the simple things that make a huge difference in the outcome of neonates, especially preventing hypothermia in premature infants. I also have spare glucometers from diabetes camp this summer, so I will make sure at least two meters and strips go to Cape Coast and two to the Malnutrition ward at Princess Marie Louise in Accra.
Read more from Julia's blog at https://ghana939.wordpress.com.